Zęby mleczne tak jak i zęby stałe mają korzenie i miazgę (nerw i naczynia krwionośne). W związku z tym w niektórych sytuacjach wymagają leczenia kanałowego.
Leczenie kanałowe polega na usunięciu z kanałów zęba zakażonej i zapalnej tkanki oraz wypełnieniu kanałów materiałem biologicznym.
Kiedy jest potrzebne leczenie kanałowe?
po urazie zęba (najczęściej dotyczy zębów przednich), kiedy doszło do zapalenia lub obumarcia nerwu
ból zęba – bakterie z ubytku próchnicowego dostały się do miazgi, doszło do zakażenia i zapalenia miazgi co objawia się bólem
Leczenie kanałowe mleczaków jest bardzo wymagające zarówno dla dziecka, jak i lekarza. Podstawa – to dobra współpraca małego pacjenta.
Leczenie kanałowe może być 1 lub 2 wizytowe. Zależy to od sytuacji klinicznej i możliwości skutecznego znieczulenia zęba.
Jeżeli stan zapalny jest ostry, środek znieczulający nie działa jak należy. Wtedy na okres 7 dni do zęba zostaje założony opatrunek leczniczy, który działa mocno przeciwzapalnie i przeciwbólowe. Na kolejnej wizycie można bezboleśnie przeprowadzić leczenie.
Jeżeli znieczulenie działa dobrze, leczenie kanałowe przeprowadza się na 1 wizycie.
Etapy leczenia kanałowego:
znieczulenie miejscowe
oczyszczenie próchnicy i trepanacja komory
oczyszczenie i dezynfekcja komory zęba i kanałów
założenie do komory i kanałów materiału biologicznego
odbudowa zęba wypełnieniem stałym lub koroną stalową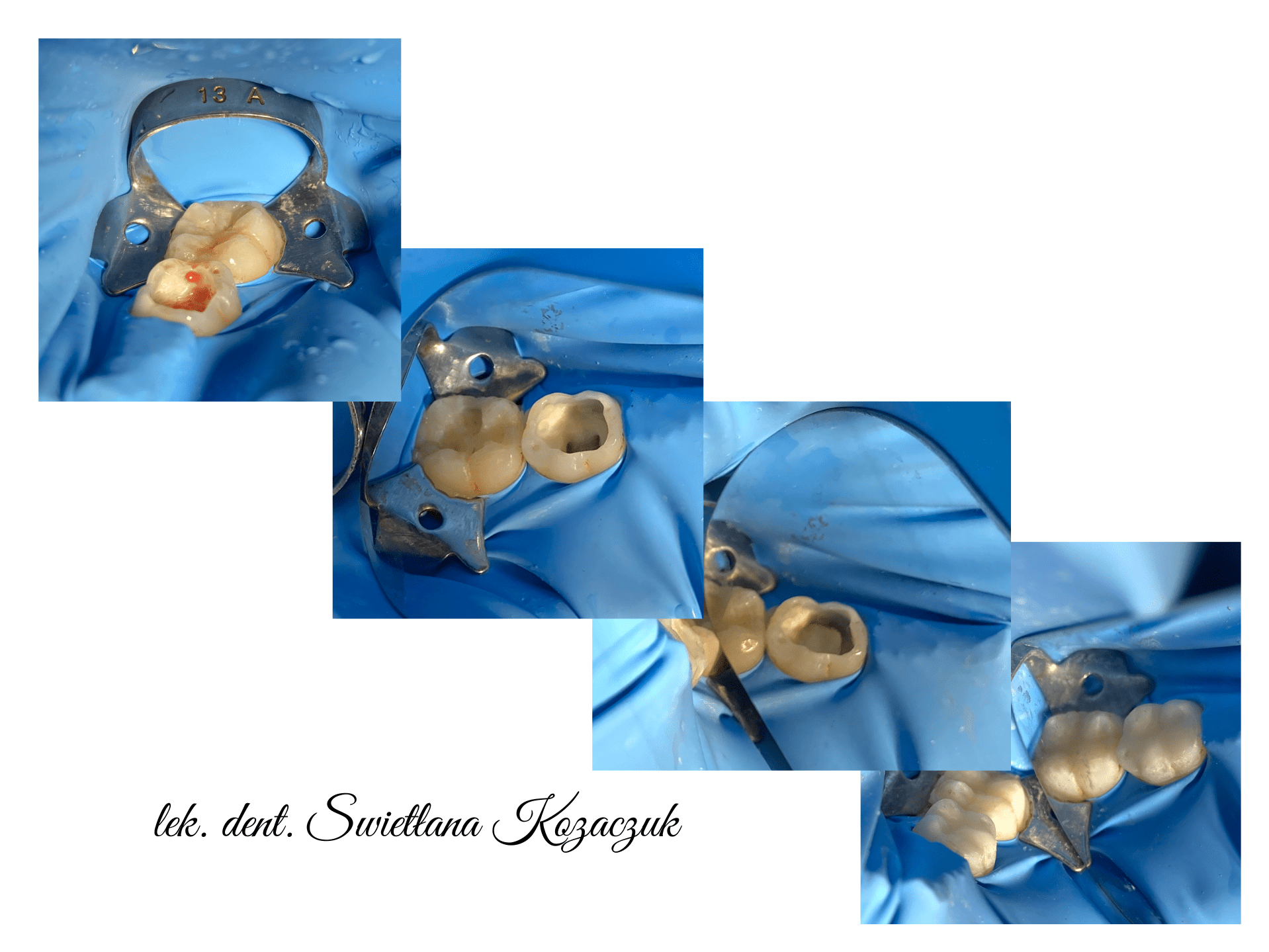 Po leczeniu kanałowym ząb wymaga okresowej kontroli, w tym radiologicznej.
Czasem mimo dokładnie przeprowadzonego leczenia może dojść do zapalenia tkanek okołowierzchołkowych zęba mlecznego i pojawienia się przetoki. W takim przypadku ząb mleczny należy usunąć.
Obrazek wyróżniający: Wang, Yin-Lin & Chang, Hsiao-Hua & Kuo, Ching-I & Chen, Ssu-Kuang & Guo, ming-kuang & Huang, Guay-Fen & Lin, C.-S. (2013). A study on the root canal morphology of primary molars by high-resolution computed tomography. Journal of Dental Sciences. 8. 321–327. 10.1016/j.jds.2013.04.002. 
---